With an outstanding 71 litre capacity in the single electric oven and a 2kw electric grill, the HB578G5S0B Oven from Siemens is an excellent way to complete your kitchen and what's more, with a range of features and options, you will be able to cook up the perfect meal, every time.
The interior of the oven is simple, with 5 shelves and handy varioClip rails. The varioClip rails provide maximum flexibility, thanks to a quick and easy mounting system, which allows you to apply the telescopic rails within your oven at any height.
This oven is easy to keep spotless too, thanks to the powerful pyrolytic cleaning function, which turns food residue and greasy stains to ash that you can simply wipe away with a cloth.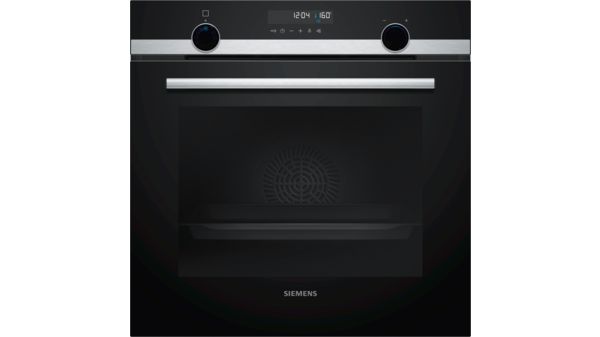 Intuitive Cooking
With the HB578G5S0B Oven, you can shorten your cooking time thanks to fast preheat and coolStart.
Fast preheat will allow you to keep the time you to spend cooking, to a minimum. As soon as this programme is activated, the oven will quickly heat to your desired temperature. This feature is especially handy when you're looking to cook a quick meal after a long day.
CoolStart is another feature that won't leave you waiting around when you need to get cooking. When this feature is activated, you won't need to preheat the oven, as coolStart uses intelligent heating control.
If you are religious, then the Sabbath setting may make your life that bit easier. With this feature, the oven will remain at a temperature of between 85c and 140c for up to 73 hours. You can thus eat warm food on the Sabbath without breaking any religious laws, as you don't have to operate the oven for this.
The HB578G5S0B also features handy cookControl30 technology, which allows you to eliminate the difficulties caused by cooking delicate ingredients. A range of automatic programmes ensures consistent cooking results with no sacrifice on flavour. This is superb for cooking dishes with more challenging ingredients, such as salmon which requires an exact temperature to provide the right flavour. No longer will you have to struggle, trying to work out the perfect temperature for more experimental dishes, now you can allow cookControl30 to take over and exceed all expectations.
What's more, when you're looking to cook the perfect Sunday roast, or simply cook up a quality cut of beef, it's important to ensure it's cooked to perfection. No longer is this easier said than done, with the roasting sensor. This will provide an innovative way to precisely measure the core temperature of the food you're cooking and pair it up with one of the preset programmes to achieve professional cooking results every time.
Keeping Your Oven Clean
Nothing is more frustrating than having to scrub away at the oven after a delicious meal, either. That's why the HB578G5S0B includes activeClean technology. This technology makes cleaning the oven a thing of the past, as with the press of a button, all the grime and grease buildup from the cooking will be disintegrated at a very high temperature, all you need to do is wipe the ash away.
Bringing Style to Your Space
Not only is this appliance smart, but it also has an impressive lightControl feature. The new lightControl knob highlights every chosen heating symbol with a stylish blue light - turning the operation into an intuitive and exciting experience.
This, combined with the bright interior oven light, will definitely bring personality and style to your space, wowing every guest.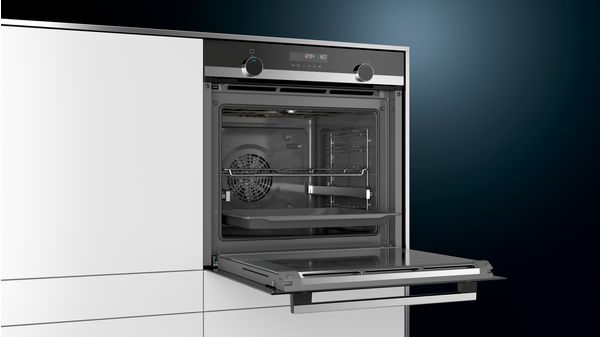 Safety First
The HB578G5S0B also has a handy control panel and door lock, which is helpful, especially if you have children. This will help you keep little hands safe and stop the cooking settings being altered.
Selecting the best oven for your home is just one piece of the puzzle, and getting great customer service and delivery options in West Drayton is also essential. At Appliances R Us you can get the Siemens HB578G5S0B Oven with great customer service and a guaranteed excellent price.